Problems Sending Email?
If you are having problems sending email messages please try the following fix. Even if you are NOT having problems it is best to make sure your email program is configured for SMTP Authentication.
The following shows how to configure SMTP Authentication in Microsoft Outlook Express. It is very similar for other email programs. If you need someone to walk you through the process please give our tech support a call. (NOTE: We are in the process of migrating to 24x7 technical support for no additional cost to you)
STEP 1
If you have not already done so, enter your email program Outlook Express
STEP 2
From the TOOLS MENU click ACCOUNTS (see picture)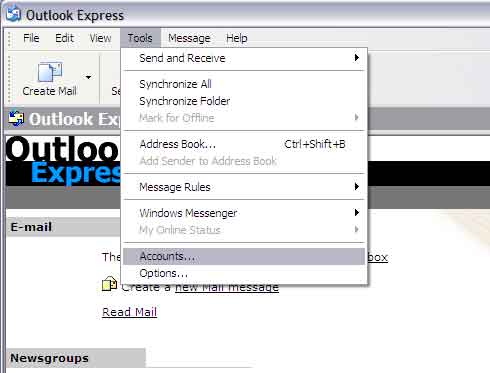 STEP 3
At the top of the new window click the MAIL tab.
Highlight your Spacestar Email account and click the PROPERTIES BUTTON on the right hand side.
STEP 4
In the new windows click the SERVERS tab at the top. In the SERVERS configuration section find the section at the bottom that says Outgong Mail Server. Place a check box next to My Server Requires Authentication. (NOTE: DO NOT place a check box next to Log on using Secure Password Authentication as this will break incoming email)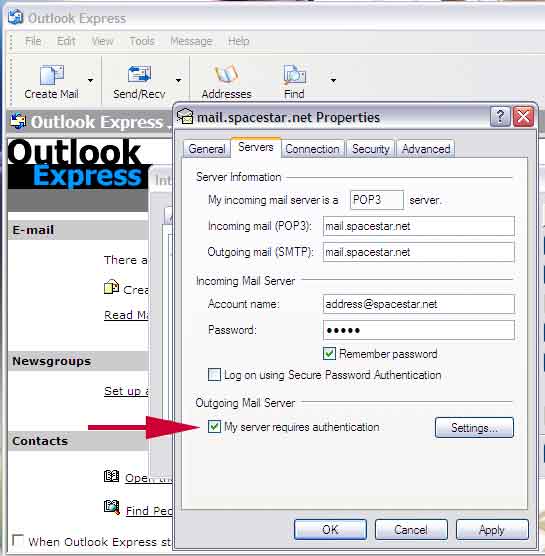 STEP 5
That's it. Click OK then CLOSE and you are ready to send email. No more 553 error messages.
Spacestar Communications
10700 West Highway 55 Suite 215
Plymouth, MN 55441

763.512.9030 - Billing Department
612.605.5600 - Technical Support
702.966.0200 - Las Vegas Technical Support
800.895.0632 - Outstate Technical Support
020 7078 7272 - London, England

news last updated 4/08/2005